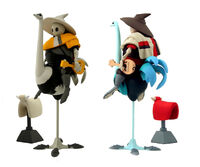 Sancho, a Day Of The Dead inspired reinterpretation of Don Miguel de Cervantes Saavedra Sancho Panza character, is artist Daniel Monahan's first release from Angels & Gringos.
Each limited edition Urban Vinyl comes with several accessories: a Hat, Sarape, and Mandolin, and while Sancho is most impressive astride his ostrich, both figures can be displayed separately on a Bull/saddle accessory included with the set.
Bridging the worlds of art toy and sculpture, this limited edition collectible (with three points of articulation) has been released in four understated colors so far - turquoise, canary, red-yellow, marigold, and a glow in the dark version - and future releases from the Angels and Gringos studio include Don Quixote himself and a "Beezle" character available later this year.
External Links
Edit
Ad blocker interference detected!
Wikia is a free-to-use site that makes money from advertising. We have a modified experience for viewers using ad blockers

Wikia is not accessible if you've made further modifications. Remove the custom ad blocker rule(s) and the page will load as expected.