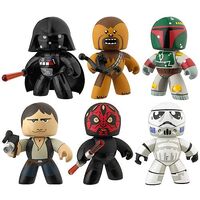 Star Wars Mighty Muggs are a line of Urban Vinyl action figures produced by Hasbro in 2008. Featuring stylized classic Star Wars characters in the super deformed style, these six-inch toys straddle the line between Urban Vinyl and Block Figures.
The first wave included:
Darth Vader
Chewbacca
Boba Fett
Han Solo
Darth Maul
Stormtrooper
A second wave later in the year included:
Admiral Ackbar
Shadow Stormtrooper
Ad blocker interference detected!
Wikia is a free-to-use site that makes money from advertising. We have a modified experience for viewers using ad blockers

Wikia is not accessible if you've made further modifications. Remove the custom ad blocker rule(s) and the page will load as expected.